Job & Family Services
Unemployment Compensation

Employer Unemployment Compensation Accounts
Welcome to the Employer Resource Information Center
The Employer Resource Information Center (ERIC) is optimized for a screen resolution of 1024 x 728.
ERIC works best with:
Microsoft Internet Explorer Version 9.0 for Windows.
Safari 5.0 for Mac OS X.
Adobe Acrobat Reader Version 9.3.3.
Cookies enabled, preferably at "medium" setting.
Accessing ERIC with a browser other than those identified above may result in limited functionality within the site. DO NOT use your browser's "Back" button during your ERIC session. Please add unemployment.ohio.gov to your browser's trusted websites.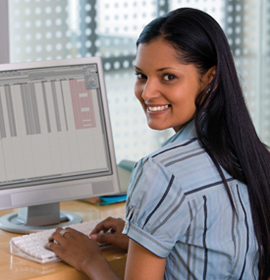 Confidential Information
By accessing the ODJFS Unemployment Compensation System I understand that the system is intended for the explicit use of employers and their representatives for the purpose of conducting unemployment compensation business. Information requested on the following pages is required pursuant to the Ohio Revised Code, chapter 4141. The information that is submitted is not open to the public. I am aware that the information I provide must be true and correct. I understand that there are penalties for making false statements and for failing to furnish information as required by the director.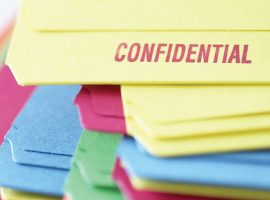 Visit the Office of Unemployment Compensation on Facebook
The Office of Unemployment Compensation is happy to announce that you can now visit us on Facebook. Stay connected with the latest information from the Office of Unemployment Compensation by going to www.Facebook.com and searching for "Ohio Unemployment Compensation JFS" or by clicking here.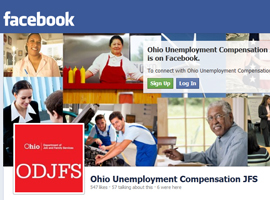 Three Easy Methods for Reporting Suspected Fraud
The Office of Unemployment Compensation, Benefit Payment Control Section, is pleased to announce the launch of a new web page that provides important information regarding Ohio's efforts toward prevention, early detection,investigation,enforcement and recovery of improper unemployment compensation benefits.
The new BENEFIT PAYMENT CONTROL web page offers three easy methods for visitors to report suspected unemployment fraud: by calling the toll-free hotline at 800-686-1555, by faxing information to 614-752-4808, or by clicking on a REPORT FRAUD link. Read More